3D LUT Color Calibration
Compatible with ColourSpace and Calman calibration software, Konvision monitors apply K10-A probe(professional level) to achieve a precise color. Monitor's also workable with universal colorimeters including CA210, CA310, CS200, CR100, CR250, X-Rite i1 Display.

Darkness Check
Increasing the brightness and contrast ratio in the dark areas, Darkness Check can show more shadow details of the input signal. Darkness Check can be used for double checking the shadow detail of the dark areas to avoid any missing infomation.

Part Zoom In
Part Zoom in function allows user Zoom In any part of the picture, to watch picture details more clearly, and assist for focus.

PIP & PBP

Images of two SDI signals manage to display on screen at the same time. It also supports PIP and PBP for one SDI signal with the other signal (Video/Component/DVI/VGA). The two images can swap freely between each other.

Pixel Measurement

Select any single pixel or block of pixels by using a movable cross-hair to obtain real time readouts of the Y&RGB values of the selected position. This function is to get real time Y&RGB measurement values of any point of the input signals and compare the values of of any two points.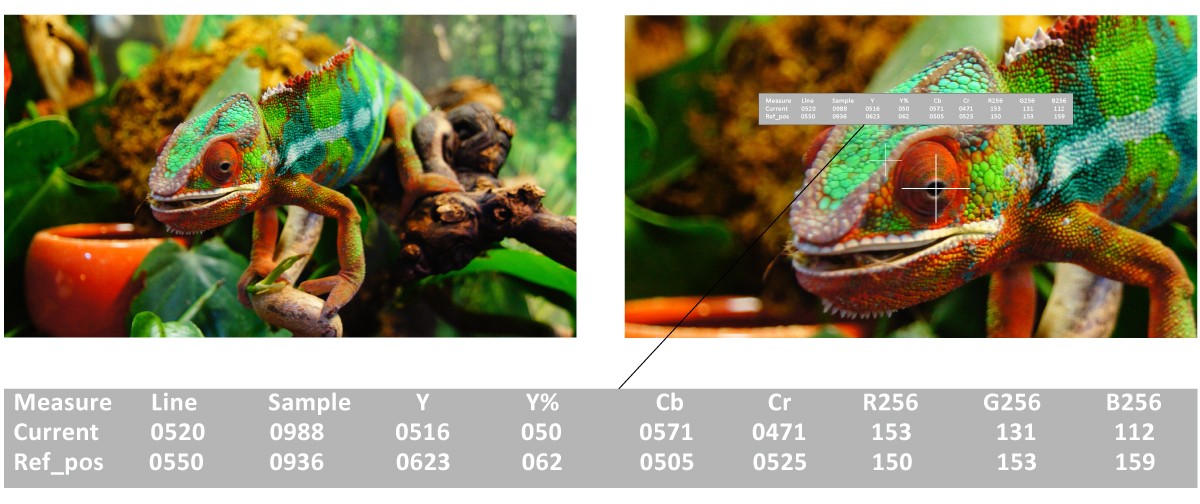 Waveform(Alarm),Vectors

SDI supports Waveform, Vectorscope, Histogram and manage to be displayed on screen at the same time.When luminance reaches or exceeds the preset value, the over exposure areas will be red marked(Waveform Alarm).

False Color

Check exposure of the image.Blue,cyan,green,yellow,orange and red color be displayed in turn to show the luminance or brightness values of the image from darkest to brightest,enables an achievement of proper exposure without applying external test equipment.

Focus Assist

Focus assist aids the camera operator in obtaining the sharpest possible picture,it will mark with red color where the sharp edges appear on the screen.

Zebra

Display the overexposed areas(too bright) of the image with zebra stripes,aids the camera operator to control the luminance,in order to avoid overexposure.This feature is very effective for proper exposure.

Picture Flip

Horizontal picture flip function allows negative image,is very useful in the studios/virtual studios,such as weather forecast,news and other programs,etc.